USNEA: Share New Song "Lathe of Heaven"; Announce Full Album Details
Portland doom quartet USNEA have announced the full details of their third full-length album entitled Portals Into Futility. Inspired by dystopian science-fiction and the painful intersection of today's crushing reality, Portals Into Futility is 5 songs and 56 minutes of expertly crafted and elegantly depressive doom/sludge. With an evolved sound of strength and dynamism, USNEA delve more into the worlds of dissonant death metal, varied vocal structures and cinematic composition, all while maintaining the monumental heaviness, brutality, discord, anger, and mournful melodicism of their previous work. Across dark and brooding peaks and valleys, USNEA remind us that no matter how many doors are opened to the human species, our self-aggrandizement and hubris all lead to futility.
Portals Into Futility is due out September 8 on CD/2xLP/Digital via Relapse Records. A complete tracklisting is included below.
Hear USNEA's new song "Lathe In Heaven" via YouTube HERE and Soundcloud HERE.
USNEA Commented on the new song: ""Lathe of Heaven" was inspired the eponymous book by Ursula K Le Guin. It is a meditation on the blurred line between cognitive reality and delusion wherein the protagonist can change reality through dreaming. A well-intentioned psychologist attempts to corral that power but ends up creating more chaos and suffering. In the end, human arrogance and greed are shown to be the leading contributors to our own doom."
Additionally, USNEA will tour throughout Europe dates this Fall as direct support for Ufomammut. The tour commences on September 30 in Paris and ends October 22 in Munich while hitting 19 different cities. The tour includes appearances at multiple festivals including Up In Smoke, Doornroosje Festival and Keep It Doom. The band will also perform an exclusive US set at Psycho Las Vegas on August 18. A complete listing of dates is available below.
Portals Into Futility will be released worldwide September 8 on CD/2xLP/Digital via Relapse Records. Physical pre-orders and exclusive bundles are currently available via Relapse.com at this location and digital pre-orders are available via Bandcamp HERE.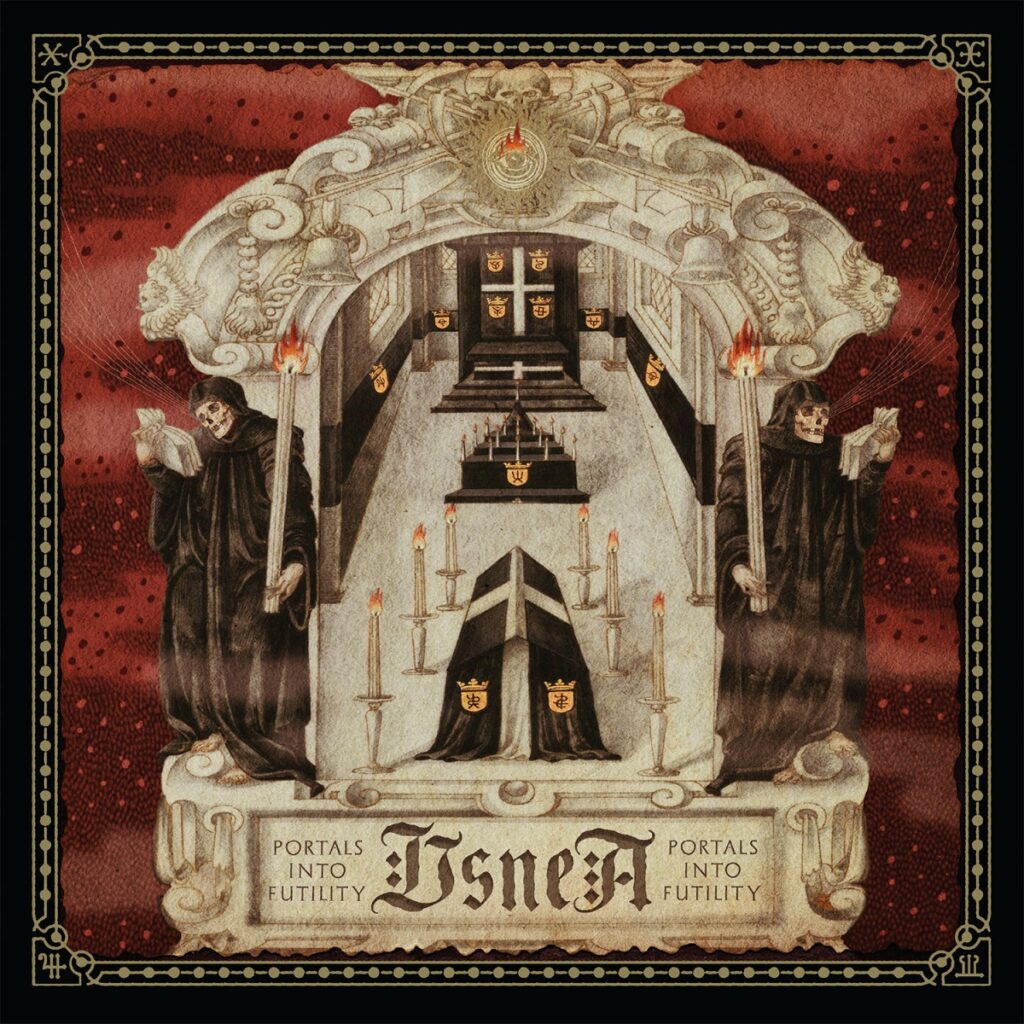 Album Art Credit: Orion Landau and Justin Cory
Portals Into Futility Tracklist:
1. Eidolons and the Increate
2. Lathe of Heaven
3. Demon Haunted World
4. Pyrrhic Victory
5. A Crown of Desolation
USNEA Tour Dates:
Aug 18 Las Vegas, NV Psycho Las Vegas
— All dates Sep 30 – Oct 22 With Ufomammut —
Sep 30 Paris, FR La Boule Noire
Oct 01 Nantes, FR Le Ferrailleur
Oct 03 London, UK Borderline
Oct 04 Brussels, BE Magasin 4
Oct 05 Wiesbaden, DE Schlachthof
Oct 06 Pratteln, CH Up In Smoke
Oct 07 Nijmegen, NL Soulcrusher Festival @ Doornroosje Festival
Oct 08 Bielefed, DE Forum
Oct 10 Oslo, NO Blitz
Oct 11 Stockholm, SE Klub Undergangen
Oct 13 Helsinki, FI Korjaamo Blowup VOL 3
Oct 14 Tampere, FI Olympia-Kortelli
Oct 16 Copenhagen, DK KB 18
Oct 17 Berlin, DE Lido
Oct 18 Hamburg, DE Markthalle
Oct 19 Leipzig, DE Werk 2
Oct 20 Wroclaw, PL Firley
Oct 21 Prag Checkt, DE 007
Oct 22 Munich, DE Keep It Doom